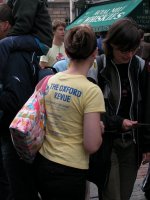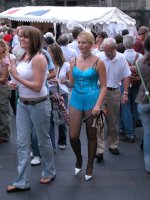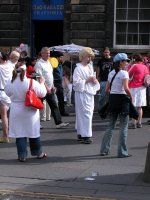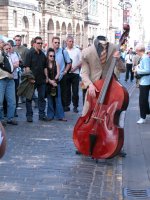 A handful of years ago the main centre for outdoor activities was the paved area adjacent to the Scottish National Gallery and the Royal Scottish Academy, on the Mound just off Princes Street. It's undergone a major remodeling during the past few years and, while outdoor perormances still take place here, there is nothing like the atmosphere there once was. But you will still find the usual craft stalls and face painters here.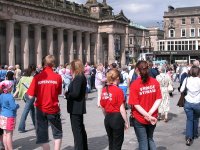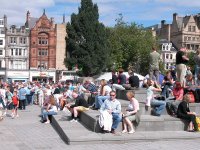 Finally on this page, a look at some of the performance venues. The first image below is a sad one - it's the mortal remains of the old Gilded Balloon Theatre, part of a block of Edinburgh's Old Town that was destroyed by fire in December 2002. The other two pictures are of the Teviot Row headquarters of the Edinburgh University Students' Association, the Gilded Balloon's new home during the Festival. Teviot Row features six performance spaces, two bars and a cafeteria, and there's an adjacent outdoor bar and food court.

Three more venues below. The first is the entrance to the Underbelly, a fascinating complex of performance spaces that finds a home in a series of disused vaults on four levels under South Bridge. In the middle is the auditorium of the Edinburgh International Conference Centre, fitted out for Ross Noble's show, "Noodlemeister". And on the right is Lady Glencora's Hall, also known as the Roxburgh Theatre, which housed Richard Demarco's "Rocket" venue in 2004 and was previously Pleasance Over-the-Road. The blue gentlemen ascending the wall were part of an installation that cropped up in various localities in the city centre.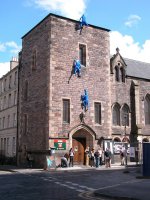 Below is the Pleasance, my favourite venue by far, a complex of eleven performance spaces centred around the courtyard of Edinburgh University Students' Association's sports and societies building. From 10am to 1 am the Pleasance Courtyard is quite simply the most happening place on the planet, featuring audiences, performers and various media types passing time, eating, drinking, catching the vibes and simply enjoying themselves.

And finally on this page we see the interior of a third Edinburgh University Students' Association building - the Potterow centre on Bristo Square, which for the past four years has doubled as the Pleasance Dome. The Dome features five performance spaces, a cafeteria, a bar, a coffee shop, cash machines, and a very useful shop that stays open until the wee small hours.